My Blog
Posts for: January, 2019
By Damita Edwards, DDS Family & Cosmetic Dentistry
January 15, 2019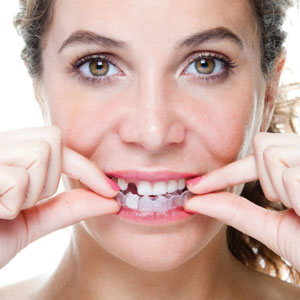 You have a lot of options for replacing missing teeth, from state-of-the-art dental implants to affordable, but effective partial dentures. But if the teeth in question have been missing for a while, you may first have to undergo orthodontic treatment. Here's why.
While they may feel rigid and firm in the jawbone, teeth are actually held in place by periodontal (gum) ligaments. These elastic tissues lie between the teeth and the bone and attach to both with tiny filaments. This mechanism allows the teeth to incrementally move over time in response to biting pressures or other environmental factors.
When a tooth goes missing the teeth on either side of the space naturally move or "drift" into it to help close the gap. This natural occurrence can reduce the space for a restoration if it has gone on for some time. To make room for a new prosthetic (false) tooth, we may have to move the drifted teeth back to where they belong.
If you're thinking metal braces, that is an option—but not the only one. Clear aligners are another way to move teeth if the bite problem (malocclusion) isn't too severe. Aligners are a series of custom-made, clear, plastic trays worn over the teeth. The patient wears each tray, slightly smaller than the previous one in the series, for about two weeks before changing to the next one. The reduction in size gradually moves teeth to their intended target position.
Many adults prefer clear aligners because they're nearly invisible and don't stand out like metal braces. They're removable, so you can take them out for cleaning or for special occasions. And, we can also attach a prosthetic tooth to the tray that temporarily covers the missing tooth space.
Whichever orthodontic treatment you choose, once completed we can then proceed with restoration to permanently replace your missing teeth. While it can be a long process, the end result is a beautiful smile that could last for years to come.
If you would like more information on your dental restoration options, please contact us or schedule an appointment for a consultation. You can also learn more about this topic by reading the Dear Doctor magazine article "Straightening a Smile before Replacing Lost Teeth."
By Damita Edwards, DDS Family & Cosmetic Dentistry
January 05, 2019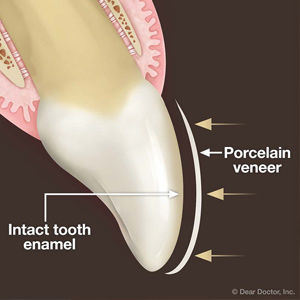 Dental veneers, thin layers of porcelain bonded to chipped, stained or slightly crooked teeth, are an effective and affordable way to transform your smile. Their color, translucence and shape blend so well with the rest of your teeth that it's often difficult to tell them apart.
But traditional veneers have one drawback: although they're less than a millimeter in width, they can still appear bulky on unprepared teeth. To help them look more natural, we often have to remove some of the enamel layer from the tooth surface. Enamel doesn't grow back, so this alteration is permanent and the prepared teeth will require a restoration from then on.
But you may be able to avoid this—or at least keep the alteration to a minimum—with no-prep or minimal-prep veneers, two new exciting choices in cosmetic dentistry. About the width of a contact lens, we can bond these much thinner veneers to teeth with virtually no preparation at all or, in the case of a minimal-prep veneer, needing only an abrasive tool to reshape and remove only a tiny bit of the enamel.
These ultra thin veneers are best for teeth with healthy enamel, and can be placed in as few as two appointments. And besides being less invasive, the procedure is reversible—we can remove them and you can return to your original look without any follow-up restoration. One caveat, though: because of the strong bonding process used, it's not always easy to remove them.
Although their thinness makes it possible to avoid or minimize alterations, there are some dental situations like oversized teeth that may still require extensive tooth preparation. With some poor bites (malocclusions) orthodontic treatment to straighten the teeth may also be needed first.
All in all, though, no-prep or minimal-prep veneers could help you avoid the permanent tooth alteration that usually accompanies their thicker cousins. What's more, you'll have the beautiful, transformed smile that veneers can achieve.
If you would like more information on minimal or no-prep veneers, please contact us or schedule an appointment for a consultation. You can also learn more about this topic by reading the Dear Doctor magazine article "No-Prep Porcelain Veneers."